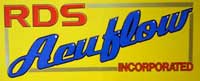 RDS AcuFlow
RDS AcuFlow, the creator of the original doming kit, is your source for everything required for doming. What is doming? Doming is a process of applying a clear resin coating to any vinyl graphic or coated label. It gives the graphic an eye-popping, 3-D effect, enhancing any sign or logo and attracting more attention to your product. It improves and protects any graphic image you apply it to.
The resin is U.V. stable, guaranteed outdoors for 10 years, non-yellowing, durable and semi-flexible.
With our products and our training material you'll be doming decals, badges, name tags, vinyl lettering for cars, trucks, boats and motorcycles, refrigerator magnets and all kinds of promotional graphics, in no time.
Start with our Try-it-Kit, the original doming kit, to learn more about the technique. The Try-it Kit contains everything you need to start doming.
For the doming professionals who want to speed up their production, be sure to look at our Lite Cure Box. It cuts down the curing time dramatically.
Already Doming? Already using RDS Acuflow products and equipment? Then you can reorder parts and supplies right here on our website. We can supply you with top quality resin cartridges, mixers, small tips for fine graphics, repair tools, seal-it pens, reposistional adhesive and much more